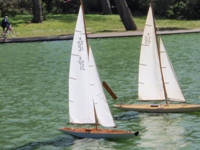 X Class – The X Class was created in 1939 as an "experimental" class, to allow builders to try out different ideas in yacht design.  It's overarching rule is a limit of no more than 1,000 square inches of measured sail area, with almost no restrictions as to hull shape, length, materials, or type of rig (although spinnakers are not allowed).  The X Class quickly became very popular all over the United States.  Boats in the San Francisco club date all the way back to 1939, and the class remains popular in the SFMYC.  A few SFMYC rules limiting, among other things, the minimum weight to 22 pounds, and the maximum draft to 15 inches, have successfully restrained development to keep the oldest boats competitive with the newest, but there is still plenty of latitude to interest the amateur naval architect.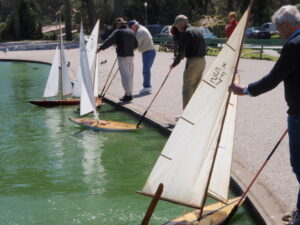 Since the rules do not penalize overall length, X boats typically have graceful overhangs and look beautiful on the water.  They are also the largest and fastest of the freesail classes racing at SFMYC.  X boats generally range from about 66 to 76 inches long and from about 22 to 32 pounds.  While there are a few exceptions with simple rigs, in general X boats are too large to be easily transported and almost all of the active fleet is stored in the clubhouse.  They are taken to the lakeside in wheeled dollies.
SFMYC members own almost 40 X boats.  A number of the yachts belong to the club, and are available for seasonal lease to club members very inexpensively.  The X Class races on weekends.  They have a six race regular season, plus the Skipper's Cup regatta, a combined X vs M event.  See the SFMYC Event Calendar for race dates.