Got some Model Boat stuff for sale? Email a description and some pictures to dgormly682@gmail.com or rwood@hypergold.com and we can post it for you.  Please put the description of the for-sale item in a MS Word document (.doc) along with the photo of the item (1 photo only please).  A for-sale item will only appear for 6 months from the time of request.
March 2023
2 Vintage Freesail Pond Yachts.  Currently in San Diego, Looking for a good home.  View photo here.  Contact Dan Webster at websterdanb@gmail.com
December 2022.  I have two rc boats for sale, one is a SFRX #15, and a Odom, both I sailed at the club, have since moved to Washington and they never get used, like to see them go back to the club. If anyone is interested, contact me to go over prices and shipping. I'm still a member, since 2004.
Thomas Thomas
360 344 2474
November 2022. Two scale models for sale.  I have a RTR PT boat for sale and I hope you can help me sell it.  I'd grew up in SF, off 14th and Santiago, and have been to Spreckles lake numerous times, and have always admired the skill of Model builders.  There are a lot of enthusiasts there and I really want to have it go to someone who will appreciate it.  Click here for Word doc with a picture.  Asking $475 or best offer.  Thank you very much, Craig Thompson 925-354-0297.  I also have a RTR Fletcher Class Destroyer asking $1400 or best offer.  Click here for Word doc with a picture.  This was purchased from the same collector on Alemany Blvd that sold me that PT boat I'd sent earlier.  This I/C model complies with speed limit and noise requirements for the lake.  Thank you again, Craig Thompson 925-354-0297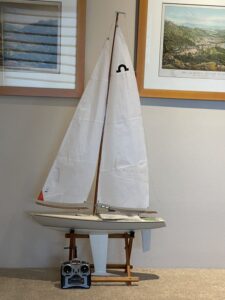 October 2022.  Soling 36 One Design and the 5 – Channel full range DSM@ 2.4GHz Radio System for sale everything @ $500 or best offer. The boat was designed by Bob Jensen. It is a class boat and was recognized by the AMYA 1978 to 1990. Call Bill Brooks 831 459-6060, Santa Cruz for details.  Click here for additional photos.