Welcome to the Power Squadron of the San Francisco Model Yacht Club. We power boaters are extremely proud to call Spreckels Lake our "Home Waters."
The majority of the scale power boats operated by San Francisco Model Yacht Club (SFMYC) Members are either steam or electric powered. The Club also has a special category for internal combustion(IC) scale models called 'Classical Gas'.  Our members do not operate nitro-powered, high-speed model boats at Spreckels Lake. If they desire to operate such models, they must do it away from Golden Gate Park, on larger bodies of water, designated to handle the noise and speed of such craft.
Each year the Power Squadron hosts special events. You're invited to participate or just sit back and watch these unique shows. They include: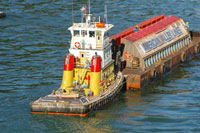 Tug Boat and Barge Pull: An entire weekend of individual and team events, demonstrating the skilled driving required as these high powered tugs and pusher boats navigate intricate maneuvering courses and obstacles just like the real ones.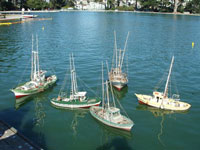 All Fishing Boat Regatta:; A fun day devoted to San Francisco's long and colorful maritime history. You can see regional classic models such as Monterey Clippers, east coast Lobster Boats and many other working riggers and trawlers. Participants and spectators are amazed at the exquisite details of these craft.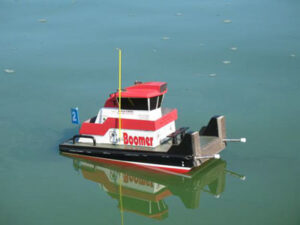 Springer Limited Competition: It's non-stop action as these teams of little push boats go head to head in water polo and figure-8 competitions. Hulls and power systems are all identical, so this competition is a true test of driving skills.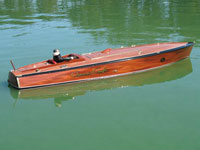 Classical Gas Group: This is an opportunity to see vintage craft such as cabin cruisers and runabouts powered by gasoline engines. Many of these models are exquisite, scratch-built mahogany boats. It's a must see for all "woody" fans.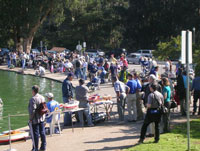 Wooden Boats On Parade: Held every other year, this is the largest model boating show on the West Coast. It is a non-competitive exhibit, open to all static and radio-control models, power and sail. The show provides a relaxed atmosphere for craftsmen to come together to learn and expand their modeling talents. It's an event for beginners just getting started in the hobby and for talented master craftsmen. Hundreds of boats are displayed at lakeside and in the clubhouse. Many of these models are highly detailed museum quality, so it's a show you do not want to miss.
Click here for an article on the history and restoration of Margie, a Gas Powered Wooden Boat.
These fun events are open to all model boaters, so check the schedule on the website for dates and times.