Selected SFMYC Events are highlighted here.  Each event includes a link for additional photos.  All club photos can be seen in the Club Archive.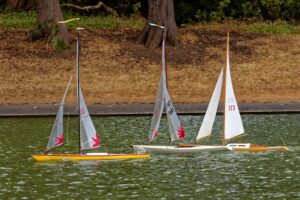 Pictures from Michael Fischer, taken in 2016 during a SFMYC Santa Barbara class Regatta.  See all photos here.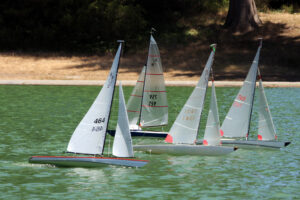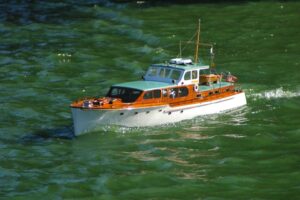 The San Francisco Model Yacht Club held its sixth biannual Wooden Boats on Parade event in October, 2006. Over 100 ship models were entered. There were steamboats, electric powered boats, gas powered boats and sailboats on the lake. There was also a fine collection of static (non-powered) models on display in the clubhouse.  To see more photos click here.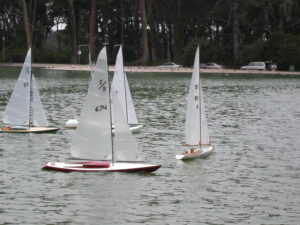 The SFMYC hosted the AMYA Santa Barbara National Championship 2008 during the July 4th weekend. Here are some selected photos from the event.  To see more photos click here.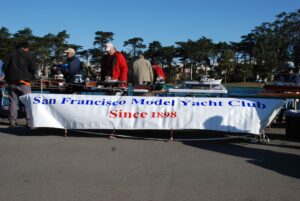 Photos from the 2008 Wooden Boats on Parade.  To see more photos click here.
The 2018 Model Boats on Parade Event was a celebration of the SFMYC 120th anniversary.  To view photos click here.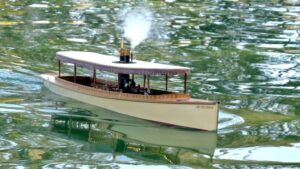 The second annual "Steamup" was held on August 8th, 2010.  To view photos click here.
About The Event: It's an "All Steam Power" Model Boat Regatta hosted by the S.F. Model Yacht Club. The event is a tribute to steam, as our first power boat models. The event showcases both vintage and modern day boats such as tugs, work boats, and open launches, and is open to all steam powered vessels. Works in progress, and all forms of steam plants and boilers, are encouraged to display. Many of the models will be run on the pond throughout the day. Last year's event was a real success. We are hoping to enlarge the event by encouraging steam enthusiasts of any stripe to attend this all steamboat show. If you are new to model boating or ever considered starting a project, this is the event to attend. Feel free to bring along any steamboat project in whatever state; you'll get some great ideas. Bring along family, friends and a picnic, and enjoy a great summer day at Golden Gate Park.
History: In the late 1800's power boats began to appear on our lakes and ponds. They were powered by steam, our first source of model boat power long before gasoline and electric. Early models featured "hand crafted" engines and boilers fired by dry fuel tablets kerosene or coal. Commercially made engines, boilers and accessories were not available. By the mid 1920's model steam engines were offered as "raw castings", and the art of steam boating required extensive skill in machining, woodworking and model engineering. By the 1940's, pre-built engines and boilers came on the market. The 90's was the development of the smaller more powerful reliable units fired by propane and butane.
Today steam technology is still advancing. Using higher quality materials, and modern manufacturing design and techniques, companies like Monahan Steam Models have made great strides in developing highly detailed scale engines and boilers with increased performance, run-time, reliability, and ease of operation. See it all at the show.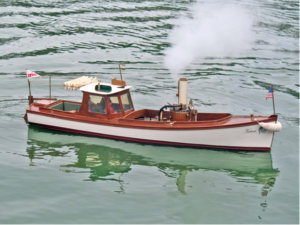 Story of SF Steam Up 2009 by Ken Valk.   On August 16, 2009 the San Francisco Model Yacht Club (SFMYC) hosted its first All Steam Power Model Boat Regatta. This unique event was the club's tribute to steam, our first power boat models.
Click here for the full article.