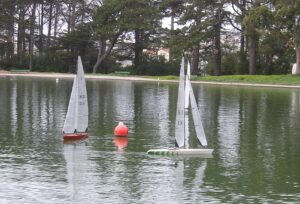 The INFINITY 54 was designed to meet the needs of the beginner as well as experienced sailors with a yacht built to last for many years of active racing. The boat sails well in light winds and performs beautifully in a blow.  Similar in size and performance to the developmental RX Class, the Infinity 54 is an AMYA sanctioned one-design.
A remote controlled sailboat that doesn't take an expert to build and sail competitively and won't cost you an arm and a leg! Not only that, the class rules are laid out to eliminate experimenting and out dating of older boats including a three channel limit on functions. This is truly a high performance ONE DESIGN by definition.  Visit the American Model Yachting Association for class specifications, manufacturer, and contact information for the class secretary.
Members of the SFMYC have about nine Infinity 54s.  They have an eight race season, and race on weekends.  See the SFMYC Calendar for race dates.